How easy is it to travel to Italy from Canada?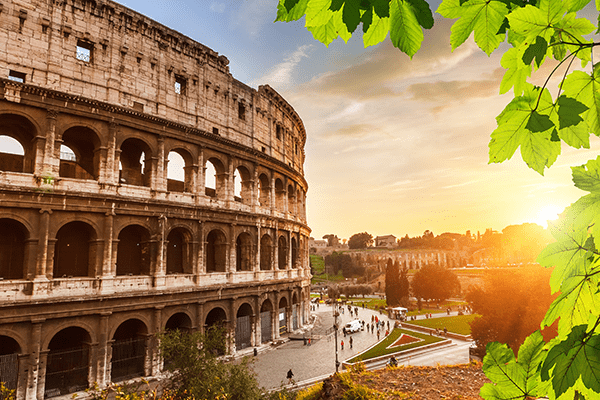 Are you planning to travel to Italy from Canada? Then this article is for You!
Italy travel is a delight for all. Tuscany's vineyards, history of Florence and Rome's streets, laid-back Southern Italy, stunning Cinque Terre, and romantic Venice canals. You can have an unforgettable experience whether you are a budget traveler or a luxury honeymooner who wants to spend a lot.
Don't rush. It is best to take your time and enjoy Italy slowly. As you travel, take in the beauty and atmosphere. Enjoy a cup of coffee or wine, and relax. You'll appreciate the beauty and nuance of this famous southern European gem if you slow down.
This guide will cover everything you need to know on how to travel from Canada to Italy, how to save money on your trip and make the most out of your time at this beautiful destination.
How Much Does it Cost to Travel to Italy From Canada?
Italy Travel Guide: Money-Saving Tips
Is it easy to travel to Italy from Canada?
How to get around in Italy?
How Much Do You Need to Travel to Italy From Canada?
Prices for Hostel in Italy
Rooms with 6-8 beds cost on average between 15-30 EUR per Night at Hostel Dorms. Private rooms cost 50-100 EUR per night. Many hostels offer free Wi-Fi and self-catering.
Prices for budget hotels in Italy
A night in a 2-star budget hotel in Italy costs between 60 and 120 EUR per night. You can expect basic amenities such as free Wi-Fi and AC, TV, AC, and sometimes free breakfast.
Private rooms on Airbnb range in price from 40-90 EUR to an entire apartment, which usually runs at least 100-120 EUR.
How Much Does Food Cost in Italy?
Italian cuisine is loved around the globe, but every region of Italy has its own unique flavor. Most dishes have tomato, pasta, olives, and olive oil as the base. Meat, fish, and various kinds of cheese complete the meal. Gelato, pizza, and other delicious foods are very popular.
A casual meal with pizza or pasta at a restaurant typically costs between 10-15 EUR and 20 EUR. You can add up to 10 EUR for tourist hot spots.
It is very easy to travel to Italy for Canadians. There are a lot of options available. Italy is already one of the top destinations for Canadians. But to save even more money, you should know the best time to visit Italy. The peak tourist season is the summer months, typically from May to September. If you want to get a great deal on hotel rooms or flights, try to avoid these times.
Fast food options like pizza slices, paninis, and light snacks are available for between 2-8 EUR. A combo meal at McDonald's costs about 8 EUR. A three-course meal at a midrange restaurant and a glass of wine cost about 30 EUR if you're looking to spend a lot.
Beer costs around 5 EUR, while a latte/cappuccino costs 1.50 EUR. Bottled water costs less than 1 EUR
You can expect to spend between 45-60 EUR per week if you cook your own groceries. This covers basic staples such as pasta, rice, seasonal produce, and some meat or seafood.
How Much Do Activities Cost in Italy?
Italy's tourist attractions and museums are priced between 10-20 EUR. For example, the Colosseum in Rome and the Forum are both 12 EUR. A guided tour costs 35 EUR, while admission to Pompeii costs 16 EUR. Herculaneum's ruins cost 11 EUR. Food tours and cooking classes are available for around 80-100 EUR.
There are a lot of sports in Italy that are popular. To learn more about the Italian way of life, let's look at what their sports fans watch the most and figure out what is the most popular sport in Italy. Italy's national sport is football. It occupies almost half of every issue of La Gazzetta Dello Sport. Italian football fans are the most passionate in Europe.
Italy Travel Guide: Money-Saving Tips
Italy is a great place to spend a lot of money, with all its historical sites, luxurious accommodation, and delicious food. It is not a cheap country to visit, as it's one of the most expensive Eurozone nations. Thankfully, there are many ways to save. If you plan to travel to Italy from Canada, read these tips. These are some ways to save money without breaking the bank.
Saving Money in Italian Stores and Restaurants
Don't eat the bread – Many restaurants will offer bread to customers when they sit down but don't mention it's not for free. You can decline bread if you are on a tight budget.
Picnic – Go to the grocery store and pick up food for a picnic. You can also relax in the parks and watch the world go by. This is a great way to save money in Italy and meet new people! A lot of people in Italy do this. You will also be able to enjoy nature.
Ask for tap water – If you ask for tap water, it will be cheaper than buying expensive bottled water.
Take a water bottle – Tap water is safe, so bring a reusable bottle to help you save money and decrease your plastic consumption. Some of the bottles have built-in filters that ensure safe and clean water.
You can purchase a bottle of wine at the store – For as low as 6-10 EUR. It is much cheaper than buying wine at a bar.
Saving Money While Traveling Through Italy
Take the bus – Budget bus companies such as Flixbus are available to take you around the country at a very affordable price. There are a lot of options for you to save money while traveling to Italy. Although it is not glamorous, tickets start at 6 EUR.
Free walking tour – Most cities offer walking tours that include all the major highlights. This is the most affordable way to see the city. Italy is blessed with beautiful landscapes, delicious food, fantastic architecture, and a wealth of history. This way you will be able to enjoy these sights better. Make sure you tip your guide at each end!
You can stay with a local. Accommodation in Italy is costly, even in hostels. You can stay with locals offering extra beds and couches at no cost.
Get a City Tourist Card Many tourist offices offer discounted or free entry to major attractions. Many cards include discounts at restaurants and accessible transportation. These cards are great for anyone who plans to travel a lot.
Rideshare– If you have a flexible schedule and are looking for rides between cities, BlaBlaCar is a ridesharing platform that allows you to share rides with locals. This service saved me money and allowed me to meet new people and learn more about Italy.
Is it easy to travel to Italy from Canada?
It's a great country to visit, despite the language barrier that many travelers face in Italy. We are covering what Italy looks like and what you need to know about it before you go. But things will be different from 2023 if you plan to travel to Italy from Canada next year.
The European Travel Information and Authorization System, referred to as ETIAS for short will replace the current visa-free travel system throughout Europe's Schengen zone beginning in 2023. This new visa structure will change the travel process for numerous foreign visitors heading to Italy, making ETIAS Italy mandatory, including those traveling from Canada. Once the new system goes live in 2023, an online ETIAS application will be necessary for all Canadian citizens before departure for one of the 26 Schengen countries in Europe.
A Canadian citizen who is traveling to Italy with an ETIAS travel authorization will not have to make the effort of getting to an embassy or consulate, as would be the case when applying for a standard visa. Instead, the ETIAS application will be completed through an online application process that is significantly easier than the current Schengen visa process.
How to get around in Italy?
People who want to travel to Italy from Canada have multiple options to get around in Italy.
Usually, the more expensive options are taxis and planes. Cabs are more expensive than in North America, and locals don't use them most often. For example, if you want to go to Sicily from Milan, the plane may be your only option if you don't have time to take the train.
We have trains and rideshares in the mid-range but as good budget options. You can get around Italy quickly by train, and it's one of the best experiences a journey can have because you will see the countryside from your train window. Tickets in Italy are as cheap as 5 euros between small towns, but for fast trains, they can go up to 60-80 euros one-way.
In the lower range, you can travel by bike, walking, or hitchhiking. I believe hitchhiking is disappearing as a practice in Italy, and I wouldn't recommend counting on it, but it can be a good option if you are walking a long way. Traveling by bicycle is cheap and extremely rewarding. You can even hop on a train and take your bike!
What did you think of this guide? Let us know!