The best way to travel Italy by train for Canadians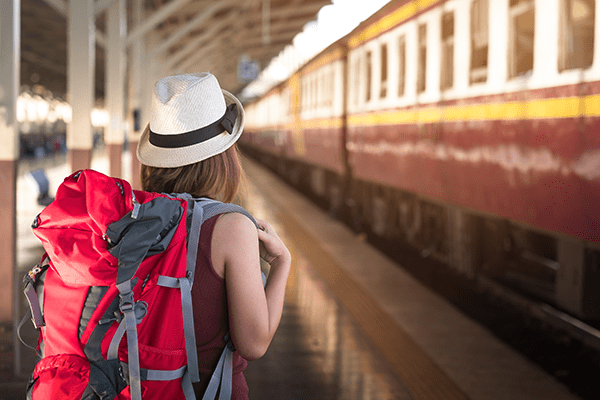 In order to appreciate the beauty of the country better, you can travel Italy by train. The services are fast and efficient, and the tickets are cheap. The train takes you directly to the action when you travel between major cities.
It is possible to travel around Italy by train without having to deal with parking problems or traffic jams. It is a pleasure to travel by high-speed or standard train in Italy. However, it can be difficult for novices to navigate the system.
This guide will help you find the best places to buy train tickets to Italy. You will also learn how to make reservations and what you need to consider before you book your trip. So these few tips are going to be everything that you will need in order to travel by train in Italy:
Buy tickets online
Buy tickets at the station
Concessionary tickets
Know the difference between ticket classes before you travel Italy by train
Finding the right train at the station
Validate your ticket
Carrying luggage on trains to Italy
Welcome aboard – Now you are set to travel Italy by train!
Travel like an Italian, but not as a tourist!
Food and drink
Train travelers with limited mobility
Traveling with dogs
Onboard information
We travel in Italy by train, just like many other Italians.
Trains are clean, spacious, and affordable – especially if booked in advance – and most importantly, they run on time.
Many of these places offer free soft drinks or snacks, which can make your journey more enjoyable. You can travel around Italy by train, see beautiful sights and enjoy these snacks at the same time!
While you wait, you can take in the beautiful architecture and delicious coffee bars at many stations.
Should you travel Italy by train?

There are many benefits to you as a traveler. You will leave when you expect and arrive at your destination quickly. You will feel comfortable, and if you wish, your dog or your bike will be with you.
Your Italian companions are the best, as they love to have a good conversation with other people from other countries. They can make the trip more fun while you travel Italy by train.
There are downsides too. Because of their popularity, the train will not wait for you if you are late. If you wait until the last minute, you might have to pay a first or business class rate for a ticket that costs three to four times as much as a pre-booked one.
Now let's go over some tips on how you can travel through Italy by train.
Tip #1: Buying tickets online.
Lots of people are wondering about how to travel Italy by train. The first piece of advice will be to book as soon as you are clear on your dates. Popular routes sell quickly, with the best fares selling out in hours.
There are two ways to do this.
Trenitalia allows you to book online. You can enter your starting and ending locations, preferred dates and times, and the number of passengers. Then wait for it to give you all possible "solutions". And now you are ready to travel Italy by train.
This could lead to two problems:
Prices for seats are released 3 months prior to the date of travel. This can vary greatly. Sometimes, they aren't available online at all.
If you want to travel by train early in the morning you will not necessarily find a train. Enter the date prior to that you wish to travel. Scroll down to the bottom of the list to see the early trains the next day marked with an *.
ItaliaRail can also help you book train tickets. You'll find all information about a single day on one page. You can pay in USD, PS, or EUR. They have great customer service.
It's free and it can save you time unlike standing in corridors for long trips.
You can book a seat for certain journeys, such as those on fast trains that connect larger cities.
Choose your payment method and print your vouchers. You don't need pre-stamped vouchers at the station.
It's that simple.
Top Travel Italy by train Tip: Book through anyone you choose, as soon as you know your travel dates to get the best price.
It is a popular way to travel in Italy by train. The entire train can be booked if you wait too long. It's gone forever, they say.
Tip #2: Buying tickets at the station.
You can also buy tickets at the station.
You can do it easily by using the 'Fast Ticket" machines that you will find in most larger stations or at the ticket offices. If you have any questions about times or live in a smaller town without machines, the ticket office can help.
You can pay with cash, international credit cards, or debit cards. They are easy to use and can be used in many languages.
Keep an eye out for ticket machines. They are easy to use and available in multiple languages.
If you are a tourist in Italy it is super important to spend as little time as possible on such things as train ticket queues, traffic and so on. Because there are so many amazing things to see in Italy and you might not have enough time. That is the main reason why a lot of people choose to travel Italy by train. It is definitely a great option to have.
Top Tip to travel in Italy by train: Choose a non-busy day of the week for your trip if possible. For example, Sundays are a busy time for people who travel from the beach or their hometowns to their workplaces.
Then you only have the option to pay full economy, business, or first-class rates. These will be much more expensive. You can also travel slower or at a different hour.
Once all the seats have been sold, that's it!
Tip #3: Concessionary tickets
Top Tip Students, children, and pensioners all have the option to travel in Italy by train at a lower rate. This is something to be considered when you book tickets.
Do not claim a concession to which you aren't entitled. Inspecting trains in Italy goes very strictly. You may be asked for proof of your age or to show your student ID when you board the train.
For improper usage, fines can be strict.
Tip #4: Know the difference between ticket classes before you travel Italy by train
The train you choose will determine the type of class you are going to be in.
In Italy, there are no different classes for local trains – all seats are the same and no food or drinks are served.
There are still carriage trains that have six compartments and a corridor between them. This type of train is getting less common as Italy continues to modernize its stock.
It is becoming more modern to modernize local trains in Italy. That's because there are lot more people willing to travel Italy by train. People require more comfort.
Inter-city trains, including Eurostar, can be divided into three classes: economy, business, and 1st. You'd expect the difference in them to be: they have wider seats, aren't as crowded, and they are quieter. On some trains, you can also choose to travel in a quiet compartment on business class trains.
You can also get free WiFi access on certain routes (but not all) and will receive more personalized treatment including a variety of soft drinks and snacks.
Tip #5: Finding the right train at the station
Tip: Every train in Italy has a number. It will be on your ticket or voucher. You can also look on the departures board for the number.
Do not assume your train is the one that you see when you search for your destination. Trains will often depart within minutes of each another for the same destination or different stations within the city.
You can see how many trains depart Napoli at the same time. Look for the correct train number in the second column.
After finding your train number on the noticeboard, look for the platform number right next to the destination. Most notice boards in large cities are now bilingual in English and Italian.
If you don't know what platform means, use the binario keyword.
It is common for the platform number to not be notified until the train leaves, especially if the destination is in the middle or end of a long journey.
If you are boarding at the beginning of the journey, or at a smaller station than the others, the platform will appear on the timetable notice board. This may be either electronic or in small stations, it is often located near the station entrance.
The platform provides information about the train's number, final destination, and due date. The black sign in the middle or at the beginning of the platform is to be avoided. Once you follow these steps you will be almost ready to travel by train in Italy.
Tip #6: Validate your ticket!
This does not apply to tickets purchased online. The inspector will only need your voucher.
This does not apply to fast trains that have pre-booked tickets. These are only valid for one train.
However, if you have a ticket to a local train purchased at the station you must validate it before you can get on the train. These machines are available at every station and on the platforms.
Top Tip to follow if you want to travel Italy by train: Ticket invalidation can lead to a severe fine. Being a tourist will not excuse you! Before you travel, make sure that you have your ticket validated.
Tip #7 – Carrying luggage on trains to Italy
This tip is going to be especially useful if you are planning to travel by train in Italy with luggage. It is possible to travel with as much luggage on Italian trains as you wish. There are no limits on the weight and number of bags you can carry, except for how much you can actually carry.
All major stations have left luggage scanners. However, the process of checking in and out bags can be tedious and time-consuming. Give yourself plenty of time.
You don't have to pay extra for luggage when you travel by train. However, there are no separate luggage compartments. Your luggage can be carried in the carriage.
You'll find luggage racks at each end of the carriages on larger trains. It's not a good idea to leave your luggage unattended even though thefts are very rare.
You'll be able to find other people willing to help you if you travel alone. This is one of the best reasons to visit Italy and it has always been this way. People are usually very helpful and they are pretty welcoming towards tourists.
You can also find luggage racks between and above the seats on most trains. Although large suitcases won't fit, smaller hand luggage will be able to fit.
If you don't have enough space, or your case is too large to fit in there, keep it in the aisle beside you. Everyone does!
It is not uncommon for trains to be far from the ground in Italy. One person can climb on and the other holds the luggage. This is the safest way to get all your luggage onboard.
Tip #8 – Welcome aboard – Now you are set to travel Italy by train!
Finding your seat sometimes can be quite frustrating. You'll see the tickets you selected on your voucher if you book online.
However, booking at a station is less reliable. You will be asked for your preference of seats, but you won't always find the same number on your ticket. This is especially true if the trains are near full.
The machine will assign the seats it finds available, but they may not necessarily be in close proximity. Sometimes even seats that are two miles apart can be allocated to carriages. This can be another downside of traveling Italy by train.
You can check your ticket or voucher for the carriage number as well as the seat allocation.
It is definitely a treat to be able to see such a beautiful country as Italy. So you should try and make the best out of it. One important note is that Italy is on a list of countries where visitors will have to complete the ETIAS application before visiting. This new regulation will be enacted in 2023 and you will be able to travel to Italy without ETIAS before that. Just something to keep in mind for your future travels.
After you have found your seat and carriage, it is possible to find another person sitting in it. This could be because they are confused about the numbers or because they don't like being told where to go.
You can insist that the person in your seat leave it. After all, everyone has an allocated number. You can also have the opposite effect of the "I'm not being instructed where to sit" story. If you have two seats, an Italian traveler will most likely take the one you want and move to the one you are assigned.
This has been a common occurrence on many journeys. Sometimes your seats can be far apart, but accommodating Italians will allow you to sit together.
Eurostar is an exception when it comes to seats. People traveling by Eurostar are more likely to stay with their destinations and they expect others to do the same.
Tip #9 – Onboard information
Even if you are traveling Italy by the smallest train you will find all information regarding your trip on monitors high above your head. This includes current speed, name, and time of arrival, as well as weather conditions.
Older local trains may not have this luxury. You'll need to note which station is before yours and how long it takes to get to your station so you can start putting your stuff together when you get off.
Top travel Italy by train itinerary Tip: While you travel Italy by train, you can add your destination and start point to Google Maps and then choose the public transport option. It tracks your progress and shows you exactly where you are.
If you are unable to access a mobile device while on the road and don't know where your station is, ask others. People are always willing to help.
Tip #10 – Food and drink
There is a distinction between different types of trains. Intercity trains larger than a train will offer a buffet with typical train food, such as sandwiches, coffee, and so forth.
You can also get a trolley service that offers soft drinks and snacks while you travel Italy by train. If you are traveling premium (ie, business or first), you will be given a complimentary drink and nibbles.
It's not possible to have this luxury on local trains. You can ask your Italian friends to bring you a picnic on longer trips. This is an option if you are not looking to spend too much money in Italy. Otherwise, you should buy sandwiches and drinks at the station. Either way, you can probably live without these luxurious services because there are lots of beautiful sights to check.
Top Tip Most stations, except those in rural areas, have platform buffets that you can use to buy food or drink before you travel.
Excellent food is a common feature. You should allow plenty of time for shopping, as queues can be long during rush hour.
Tip #11 – Train travelers with limited mobility
It is not easy to travel by train in Italy for people with disabilities. It is very extensive, and some parts are quite old. Station platforms are usually lower than the train entrances and station platforms are higher. Although it is not ideal, it is improving. There is always staff at stations to help.
With mobility issues in mind, new stock is being introduced. Even smaller local trains have designated areas for wheelchairs and adjacent seats for carers.
For anyone with impaired mobility, the best place to contact is the Sala Blu (Blue Room) at larger stations.
Top Tip It's a good idea for Sala Blu staff to contact them at least 24 hours prior to your train departs to verify the mobility access at the stations that you are traveling to.
Sala Blu employees will need you to be there at least 30 minutes before your departure in order to assist with accessing platforms and trains.
Tip No. 12: Can you travel Italy by train with your dogs?
Like most places in Italy, trains are dog-friendly. You can allow your dog to travel with you, but they must be immunized. Must have the 'pet passport', or in the case of Italian dogs, the certificate of registration.
If you are unable to produce this, you may be asked to get off the train at the next station.
A pet carrier can carry one small dog per person. A tiny dog will not bother anyone – it is often the beginning of a friendly conversation about dogs.
All small dogs must be transported in a carrier, regardless of whether or not they wish to.
If your dog is too large to fit in a carrier, it can travel with you on the train. They are permitted to ride along but must be kept under control. You must have a valid ticket. The cost of a half-price adult ticket is the same as an ordinary one.
These are some of the most important requirements to travel in Italy by train with a pet.
FAQ
Can you travel across Italy by train?
Yes, you can. It is one of the best ways to travel in Italy. One important thing you consider – choose a non-busy day of the week for your trip if possible. For example, Sundays are a busy time for people who travel from the beach or their hometowns to their workplaces.
What is the best way to travel within Italy?
Traveling Italy by train is the best option. It is one of Europe's most efficient train systems and also the cheapest. Although traveling by train will not be as inexpensive as taking a bus or budget airline, it will be more scenic, comfortable, and will save you time.
How long is a train ride through Italy?
This will depend on the routes you will take. It takes usually 3-5 hours to travel between big cities in Italy by train. The longest high-speed rail line in Italy, as of 2020, was the one linking Florence and Rome. It measured 254 km. It takes 1hr 26 min for the train to cover this distance.