Top 5 reasons to visit Italy in 2022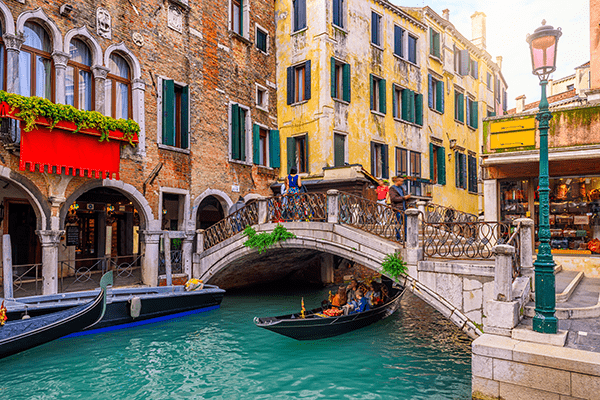 Are you wondering where to start your next adventure in the world? Here are some reasons to visit Italy following the pandemic. The country's beauty, natural beauty, food, art, and style are only the tip of the iceberg. Let's understand why anyone should visit this famous country with its boot-shaped shape.
Italy is known for its delicious tiramisu, melting cheese of fresh pizzas, smooth gelato, and perfect Instagram filters. These are just a few of the many reasons why you should book your tickets to Italy. Here are way more important reasons:
There's a mystery in every corner
The country offers a rich legacy in art and architecture
It has the most world heritage sites
You can marvel at the beauty of the landscapes
It's a paradise for your taste buds
It has the longest coastline in Europe
There's a mystery in every corner
Italy's history dates back to the Middle Ages. Italian culture and history are one of the main reasons to visit Italy, and they will be evident as soon as you step foot on its soil.
Rome, one of the most important Italian cities, will reveal the traces and noble families of the Papal kingdom and the ancient Roman empire. Its historical importance is probably the best reason to visit Rome.
Florence, a smaller city, will guide you through the Middle Ages. In the cities of Viterbo and Bracciano, Perugia, and Venice, you'll find Middle Age imprints. Sardinia is home to the Nuraghe Stone Towers from the Bronze Age and villages that belonged to the ancient civilization of the Mediterranean island.
Cultural Heritage is one of the reasons to visit Italy.
Italy's rich cultural heritage and diversity are just two of the many reasons people love it. The unity of Italy, orRisorgimento,into one state occurred late in the 19th century. This preserved the richness of its smaller states and kingdoms. Although they may speak the same language, every region has its own dialects, cuisine, history, and culture. You can also try the Pizza Napoletana from Campania or the "Naked" ravioli filled with ricotta, spinach, and sardine in Tuscany.
Italy offers a rich legacy in art and architecture
Italy's rich heritage of architecture and art has attracted many over the years. The country has many artistic and architectural treasures that date back to the Roman era. Each era has its gems and devotees. But the country is best known for its amazing artists, engineers, architects, and inventors who have changed the world.
Take a look at Michelangelo's Pieta' and 'The Last Judgment,' Leonardo da Vinci's 'Renaissance Man' or Titian's 'Venus of Urbino' to admire their artistic talent or learn about the culture.
Anyone who wants to learn more about architecture and design throughout the centuries can find it in this country. There are lots of beautiful tourist attractions for people of every taste. Most people think that they are the best reasons to travel to Italy.
You will see these pieces on any street or road you may encounter. It is impossible to travel without running into an example of history. Some of the most iconic art pieces include Florence's streetscapes, Rome's Colosseum, the beautiful preserved Colosseum, and the stunning painted ceiling of St Peter's Cathedral in Vatican City.
Also, Venice's gorgeous arched bridges across its canals and the postcard-perfect tiers and colors of Positano are just a few examples of what Italian architecture and art have to offer.
Beautiful landscapes are one of the main reasons to visit Italy
This country's natural landscapes are simply breathtaking. There is a lot to see, from the majestic mountains and tranquil lakes to the sunny coasts and dark green forests. These stunning views are just some of the many reasons to visit Italy.
You can visit Italy without restrictions from 2022. From 2023, Canadian citizens eyeing the beautiful Mediterranean country will need to apply for ETIAS, the new online authorization system that allows visa-exempt travelers to enter Europe for up to 90 days. The ETIAS visa waiver will be available for Canadians and will have a validity of 3 years.
The Dolomites are located in the northeast, and the snowcapped Italian Alps can be found in the north. You can bike, hike, or ski in both. That is one of the best reasons to visit Italy. You will find the most stunning mountain landscapes in the world with the 18 Dolomites peaks, which rise above 3,000m and cover 141,903 ha. They have vertical walls, sheer rock faces, and dense, long, narrow valleys.
Diverse nature of Italy
Are you tired of mountains and lakes? You can get lost in the orange groves in Sicily, drink in the wineries of Tuscany or Lazio, and walk through the rock-cut homes of millennia and the churches built in the ravine-cut lands in Basilicata Italy's stunning lakes are scattered among these magnificent mountains. That's the best thing about visiting Italy. The lakes Como, Maggiore, and Garda are located in the north and are surrounded by beautiful hills and green mountains.
Italy has the most world heritage sites.
We can list 55 reasons to visit Italy if you count the World Heritage Sites. The small country of Italy has more UNESCO World Heritage Sites than any other European country. Five of the 55 sites are natural, and 50 are cultural.
Italy is the birthplace of the Roman Empire and Renaissance. It is home to Pompei and Herculaneum, Torre Annunziata and Torre Annunziata. These are also the historical centers of Florence, Naples, Rome, and Rome. Discover
the remains of Pompeii, Herculaneum, and other ancient Roman cities submerged by Vesuvius' eruption in A.D.79.
Italy is a paradise for your taste buds
Each region has its own unique dishes, and you can find fresh market products in every area. Italian cuisine needs no introduction. It is a favorite of many people all over the globe. Italy is home to authentic delights beyond your usual comfort food of pasta and pizza. You will be delighted regardless of where or when you travel to Italy with everything you see. Gelato is available everywhere. This cold, creamy treat is perfect for a quick afternoon snack. Don't miss out on Italian coffee culture's rich, bold flavors.
A good bottle of wine is a must for any Italian meal. It's not surprising that Italy produces more wine than France, thanks to its numerous grape varieties. It is a great place to enjoy local wines perfectly paired with delicious dishes.
Italy has the longest coastline in Europe.
Five seas wash the Italian coastlines clean: the Mediterranean, Adriatic, Ionian, Tyrrhenian, and Ligurian. Nearly all 20 Italian regions, except Umbria, have easy access to the ocean. Enjoy an unmatched summer vacation, relaxing on the beach, eating fresh seafood, and admiring the beauty of its emerald sea.
You will find the perfect spot for you, no matter your preference, whether it is luxurious resorts or historic and rustic sites. The best thing about visiting Italy is that you don't have to spend too much money. There are many ways to save money in Italy if you're flexible and don't mind sacrificing some costly sightseeing. Check out the article about some tips on how to spend a month in Italy for cheap.
FAQ
Why Italy is the most visited?
This is thanks to its fascinating culture, natural landscapes, and famous cuisine. Italy is the fifth country in the world and third in Europe in terms of international tourist arrivals. These are just a few reasons to visit Italy.
What are five things to do in Italy?
If you want to get the most out of your traveling experience, you can climb mount Vesuvius, stand on Juliet's balcony, enjoy the beauty of the Coliseum, visit Pompeii and take a boat trip along the Amalfi coast. These are my personal favorite reasons to visit Italy.
What is the most beautiful thing about Italy?
Tuscany Countryside. There are a lot of good reasons to visit Italy. But the Tuscan countryside is unlike any other on Earth. It's a beautiful place, and one of the best things you can do in Italy is to drive out of the city and explore some of the most stunning scenery in the country.