Best time to visit Italy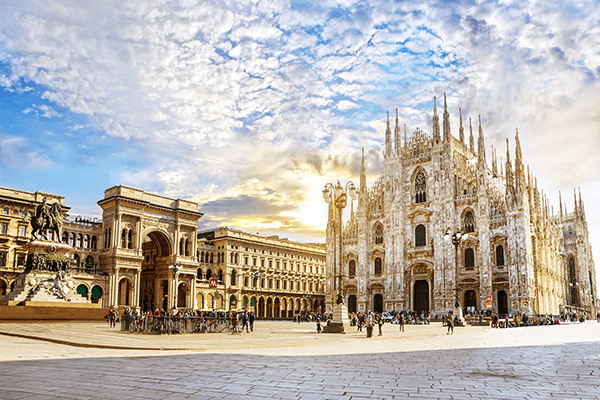 Italy is already one of the top destinations for Canadians. Are you wondering about the best time to visit Italy? Let's check it out!
How to Choose the Best Time for Visiting Italy?
Italy is a stunning country with incredible landscapes, history, and culture. Warm Mediterranean waters, rolling vineyards, and jagged mountain ridges are just a few of Italy's many attractions. There are also beautiful cities and mouth-watering food. Each region is unique in its terrain, culture, and climate. When is the best time of year to visit Italy?
The best time to travel to Italy for those who want sunny, warm days with minimal crowds is late May or October. These months are less crowded and more relaxed than the summer months. These months are the best times to explore the north and southern coasts, cities, and mountains.
Depending on your destination, travel interests, and schedule, it may not be the best time to go. This article has that broken down so you can determine the best time to plan your itinerary. You're in the right place if you want to know when you can visit Italy. Here are some of the factors that are going to help us determine the best time for visiting Italy:
Best Time to visit Italy Weatherwise
The Best Time of year to Visit Italy
Most Affordable Times to Visit Italy
Best Time to Visit Italy Based on Your Travel Style
Best Time to visit Italy Weatherwise
The country has the classic four seasons. Each season has its merits and drawbacks. You must note that the temperatures and conditions can vary by region. It can be scorchingly hot in summer in the south, but you will find cooler temperatures in the north and fresh mountain breezes.
The perfect time for visiting Italy is spring (March-May) for all your travel needs and destinations. It is part of the shoulder season and lies just before peak season. Spring weather is generally mild and pleasant. Crowds are also less than during the summer months. Spring is an excellent time to travel south before the temperatures rise. Sicily is lovely in spring, with its mild climate and tranquility. Many small towns have unique Easter celebrations, and wildflowers are in full bloom.
It is a beautiful time to visit the country, with great deals on accommodation and flights compared to peak seasons.
Visiting Italy in Peak Season
The peak season is between June and August in Italy. July and August, and even the first two weeks into September, are considered busy and expensive times for tourists to Italy's major tourist areas, such as the Amalfi Coast or Cinque Terre. Places are packed, prices are high, and heat can become unbearable, especially in cities.
However, the weather up north is generally more pleasant, thanks to the surrounding mountains and lakes. Early summer is a great time to visit the Dolomites and the lakes, which are considered to be some of the best sights in Italy.
If you are a beach-lover, make the most of the warm weather and visit some lesser-known regions like Calabria and Puglia. These areas have ideal sea temperatures and are less crowded.
The Best Time of year to Visit Italy
The shoulder season, which is September to November, also includes fall and is the best time to travel to Italy. It is just after peak season and offers many of the same advantages as spring with fewer people and more pleasant weather.
It is the time of year when Italy's harvest occurs. The countryside explodes in color, and Italians celebrate their fantastic food and wines with lively festivals. Piedmont, Marche, and Tuscany are the best places to experience harvest celebrations, truffles, and other culinary delights.
It can get freezing in the northern parts of Italy, especially the north, towards the end of the fall. So late September or October is a better time to enjoy nice weather. The off-season begins in November.
Visiting Italy in Off-Season
It is off-season in Italy during winter (December to February). As the temperatures drop, the traffic slows down, and the streets become quieter. For some people, it is considered to be the best time of the year to visit Italy.
These factors could result in lower prices for accommodation and flights. Indoor attractions like the Vatican Museums, Uffizi Gallery, and other tourist hotspots can be quieter and more enjoyable to visit in winter. You can enjoy the galleries at your own pace and take your time.
This is not true in ski resorts. These are located mainly in the Dolomites and Val d'Aosta to the west of Turin. Italy is an excellent place to ski or snowboard in winter, but it can get very crowded.
Italy has primarily mild winters, with temperatures that stay above freezing. Except in Turin, snow rarely falls or settles in urban areas.
Most Affordable Time to Visit Italy
Italy has peak, shoulder, and low tourist seasons like any other destination. The peak tourist season is the summer months, typically from May to September. If you want to get a great deal on hotel rooms or flights, try to avoid these times.
Tourists flock to famous cities such as Florence and Rome almost daily except in winter. So winter is the best time to visit Rome, even if it occasionally rains, because the attractions aren't crowded. You can also travel by train in order to save more money. That way you will still be able to see all the most important sights, and you are going to save a lot of money on flight tickets.
There are many other ways to save money when you travel to Italy. To find cheaper tickets, keep an eye on flight deals. Consider exploring smaller towns and charming villages that tourists often overlook.
Based on your travel style, when is the best time to visit Italy?
If you love the sun and seawater, the best time to visit Italy's beaches is between May-October. These months offer warm, sunny weather with temperate water to famous spots such as the Amalfi Coast and Calabria.
You'll also have more transportation options because the ferry services are available. Most ferry services will switch to winter by the end of October.
But the country offers a variety of experiences in all seasons. The warm months of May to September are the best time for mountain biking, hiking, and rock climbing. If you enjoy such activities, you should also try and see other European countries that share a border with Italy. Especially when mountain resorts in Italy can be pretty crowded in August when many Italians spend their summers in the mountains. Ski season is the peak time for mountainous regions. Winter snow covers the mountains and changes the Alpine landscape dramatically.
Many of Italy's most popular tourist attractions can be found within cities. These activities are essential to consider when planning your trip.
Traveling in Warmer Months
Traveling in the warmer months is usually more appealing (shoulder seasons are ideal). This is because walking is more enjoyable and comfortable, and there is more opportunity to take photos in bright sunshine instead of grey skies. Some people might find it uncomfortable to walk in hot temperatures. If you're traveling with children, we recommend avoiding the hottest times.
It is best to shop in Italy during the summer and winter sales. End-of-season sales offer significant savings on all kinds of retail products. That's one of the greatest things about visiting Italy. You don't have to spend a crazy amount of money.
Winter sales begin in January and last until February. Summer sales are held in July and August.
Harvests in Italy
Harvests in Italy are held in September and October. They bring with them vibrant fall colors as well as host feasts, celebrations, and festivities. This is the perfect time to visit Italy's wine areas. Winemakers are often busy during harvest season, so they might not have the time to offer tastings and tours at wine farms. Book winery tours well in advance if you plan to visit.
The Worst Time for Visiting Italy
Italy is beautiful all year, but you don't want to travel to Italy in the summer.
Avoid Venice during Carnival if you hate crowds. The city's hotels are in high demand, and its attractions, such as the bridges and boats, suffer from crowds of revelers wearing masks. In March or November, the northern lagoon is a great way to get an authentic taste of Venice.
Most tourists will also be interested in Tuscany, especially during the summer and fall. This means that tourists can crowd places such as Florence, Siena, and medieval hilltop villages like San Gimignano.
It is very easy to travel to Italy right now, but we should be aware of all the new travel regulations. In 2023 ETIAS Italy Visa Waiver will be available for Canadian Citizens. This new visa structure will change the travel process for numerous foreign visitors heading to Italy, making ETIAS Italy mandatory, including those who are traveling from Canada.
Before you start planning your trip, be aware of the major holidays in your area. You might find Christmas to be a wonderful time to visit due to the charming holiday markets and festive decor. However, some shops and attractions may be closed or restricted during this holiday.
FAQ
What is the Best Time to Visit Italy for Honeymoon?
For a honeymoon, May, June, and September are the best months to visit. It's warm but not too hot in spring and autumn, making it great for couples who love to go on outdoor adventures. You'll also get far fewer people and lower prices than during peak season.
When is the best time to visit Italy on a budget?
It is between November and March that Italy's low season is the most affordable time to visit. This is excepted if you're on a ski holiday in the mountains.
What are the Best Times to Visit Italy for Wine?
If you are looking to discover the wine regions of Italy, it is a good time to travel to Italy in early spring or early fall. Grape harvests take place in September and October each year. The exact dates can vary year to year, but it is a great time for wine enthusiasts.
When is the Best time to Visit the Dolomites?
We have great news for those who dream of seeing the Dolomites, a stunning region in northeastern Italy. Depending on your interests, the destination is worth visiting all year. You can ski in winter or hike in the mountains in spring and summer.